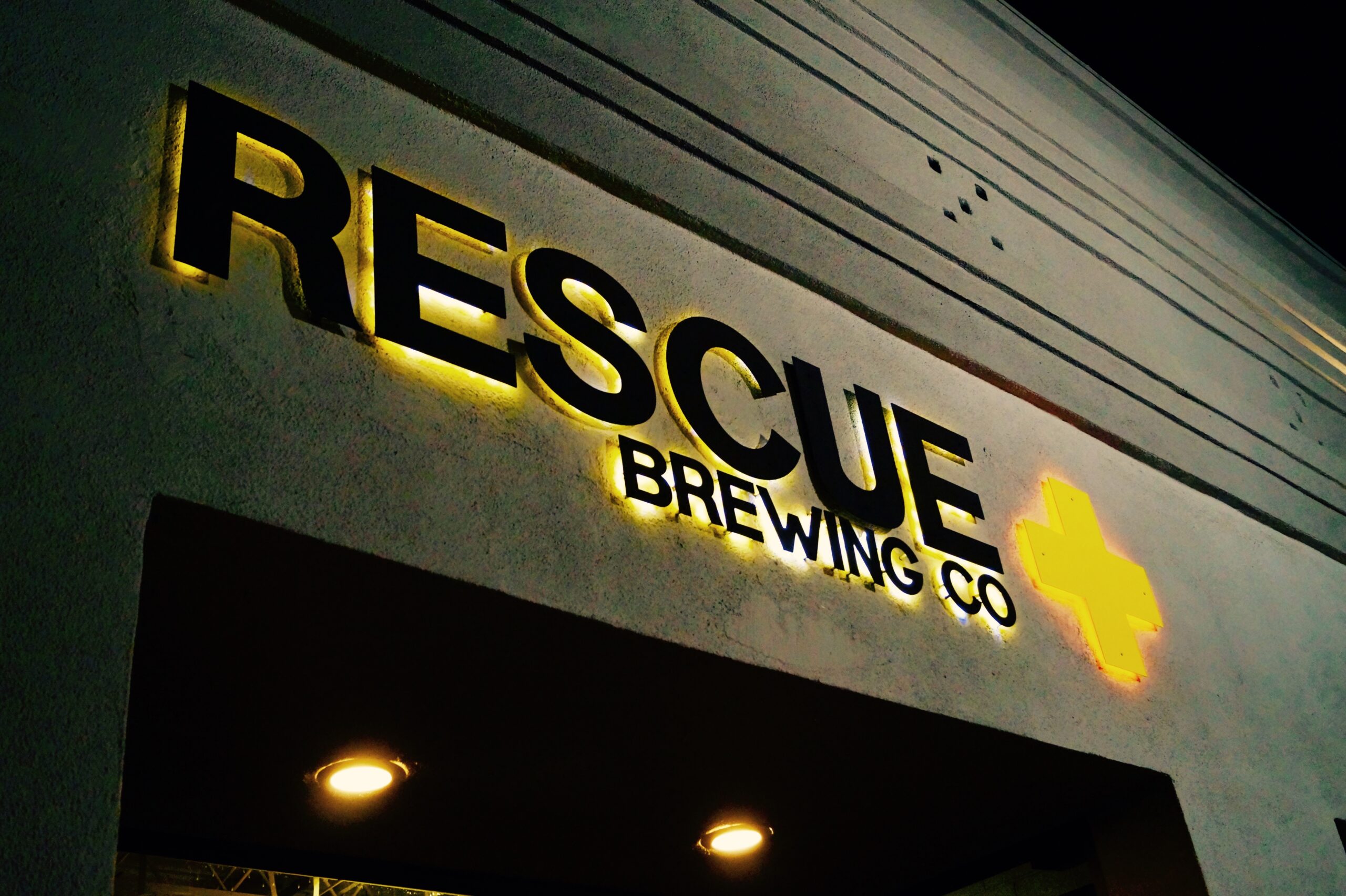 What We Offer
Craft Beers
---
Over 300 Beers Crafted and Counting…
Craft Food
---
Burgers, Flatbreads, Wings, and more…
About Us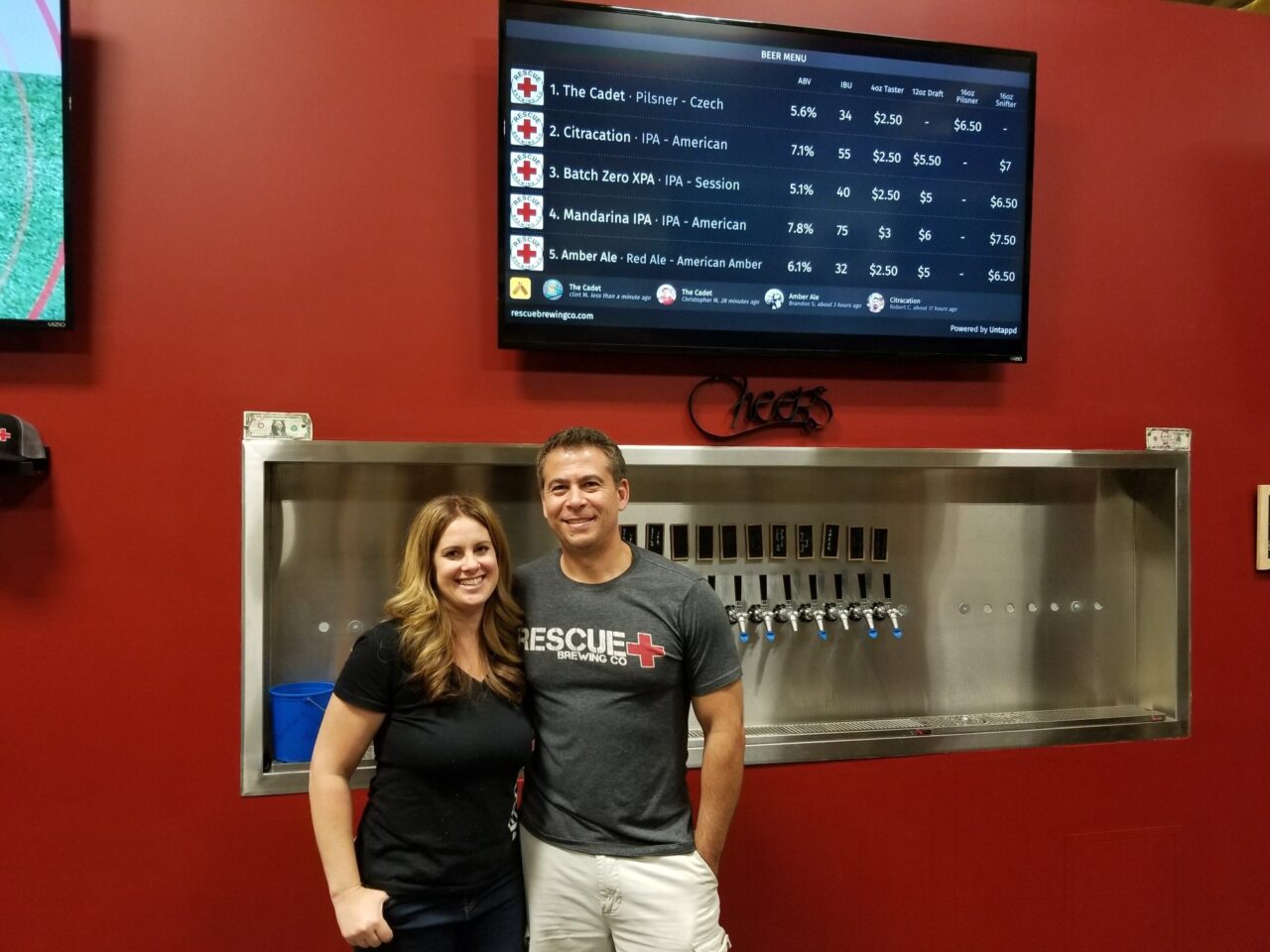 Contact
167 N. 2nd Ave.
Upland, CA. 91786
(909) 266-9696
[email protected]
About Us
Here's how it all began…..When Nikki and Neil met back in 2014 they came to realize they had some big dreams. Neil wanted to open a Brewery and Nikki wanted to figure out a way to help give back to her community of Upland that she has been apart of for 16+ years. We put our heads together and came up with a plan to combine both our passions and open a brewery! After many sleepless nights of figuring out a name and mission that would represent both our passions, we came up with RESCUE BREWING COMPANY. The word Rescue for us represents all the FIRST RESPONDERS that run toward an event rather than away and put their lives on the line for a complete stranger or animal and they deserve to be recognized.
Location was very important to us. We didn't want to be just another brewery in an industrial complex. We wanted to be in the middle of the community it served. Historic Downtown Upland was exactly what we were looking for. It had the quaint small town feel and that was the atmosphere we have been working so hard to provide… a home away from home. The opportunity to open our brewery in Upland was very important to us. Since, Upland has been home to Nikki for 16+ years and 3 of her 4 children were still attending Upland High school.
Since the decision was made to open a brewery, Neil got busy studying the industry and fine tuning the craft while brewing countless batches of beer. Meanwhile, Nikki started coming up with other ideas for the brewery that could incorporate her passion. Her first idea was to make dog biscuits from the spent grains left over after each batch of beer Neil made. These are healthy snacks for dogs and she decided that all the proceeds from the sale of these biscuits would go to the UPLAND ANIMAL SHELTER. She along with many residents were very upset the shelter's funding was cut and this was a way the community can help. Once she started thinking of helping the animal shelter she thought of other animal rescues and all the fire fighters and law enforcement, the many people who have joined our military and put their lives on the line to protect others. All these people who dedicate their time, money and resources to help others and never receive the recognition they deserve. Its Nikki and Neil's mission to do just that!
We hope that our mission will impact everyone in our community and will encourage others to help make downtown Upland GREAT again. We will be donating a portion of our proceeds from our beer sales, merchandise sales and fundraising events. We want them to know we appreciate and recognize that they put their lives on the line each and every day for us. So the bottom line is the more money we make, the more money we can give back! Not only will we be recognizing our FIRST RESPONDERS but we will be helping bring attention and life back to our Historic Downtown Upland. So come check out our home away from home! Hope you'll join us on this fantastic journey and help us to expand to other cities!